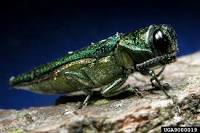 Emerald Ash Borers are bad news for ash trees. In fact, within 8 years of discovering an infestation, typically 80% of that communities ash trees are dead. But it doesn't have to be that way. If you have an ash tree on your property that you love, it is easy to treat it with 99-100% effective Emerald Ash Borer control.
Properly cared for ash trees add substantially to a property's landscape value. They can also cut electricity costs if they provide shade for your home and provide runoff and erosion mitigation as well. Letting a beautiful and valuable tree be over taken by these invasive pests would be a shame. So it's great news that treating ash trees for Emerald Ash Borer is easy and effective.
Treatment Options for Emerald Ash Borer
Tree injections, delivered by certified arborists, are the latest and most effective way to deal with Emerald Ash Borer. These injections, made at the bottom foot of the tree, are 99-100% effective in protecting against these pests. While adult Emerald Ash Borers will eat a tree's foliage; it is the larvae which burrow into the trunk and feed on the inner bark, that cause enough damage to disrupt the trees transportation of water and nutrients.
Currently, Emerald Ash Borers are in 24 states, including Iowa and Colorado. So their infestation of Nebraska is inevitable. Because ash trees are native to Nebraska and tend to thrive here, a good portion of Nebraska's native canopy, as well as trees that have been planted on public property and in residential areas are at risk.
Don't lose an important part of your yard's landscaping! Call Eden Tree Pros today for a free, no obligation estimate on what it will cost to treat the ash trees on your property. One of our certified arborists will look at your trees and let you know what they recommend. Call Eden Tree Pros today at 402-332-2839 or contact us for a free estimate.